United Airlines News Releases first on FIR:
NEW YORK, January 24, 2020 – United is teaming up with famed New York community and cultural center, the 92nd Street Y (92Y), to serve as the official airline of the nonprofit's renowned Recanati-Kaplan Talks Series for 2020. For decades, 92Y has been home to New York City's largest and most successful talks series, featuring prominent artists, entertainers, musicians, scientists, comedians, political figures, fashion designers, dancers, economists and many others.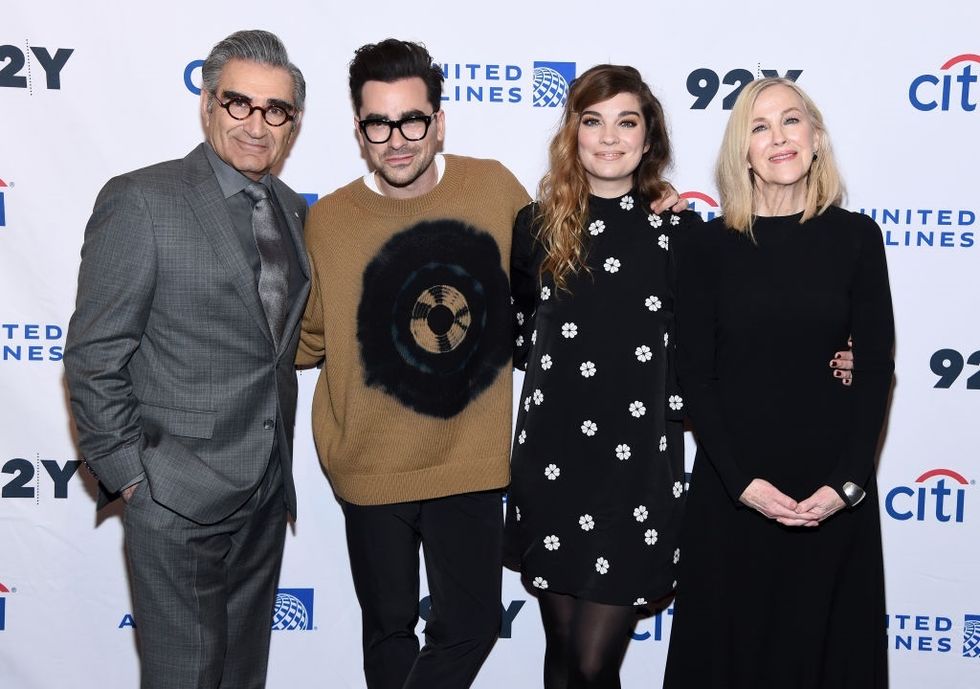 Pop TV's Schitt's Creek: A Screening and Conversation with Eugene Levy, Catherine O'Hara, Daniel Levy and Annie Murphy, Moderated by Vanity Fair's Richard Lawson at the 92Y.
Jamie McCarthy/Getty Images
---
"United's shared purpose drives us to unite the world by connecting people to what matters most, which is why we are thrilled to be aligned with an organization such as the 92nd Street Y which embodies our brand's commitment," said Jill Kaplan, President, New York / New Jersey for United Airlines. "We are extremely proud to join this iconic institution in treating New Yorkers to another season of compelling commentary and captivating stories that will lift hearts, illuminate minds and bring our community together."

"We are delighted to collaborate with United Airlines for our 2020 season of Recanati-Kaplan Talks," said Susan Engel, executive director of 92Y Talks. "Their generosity helps us to continue to present unforgettable events with some of the most interesting and culturally significant speakers of our times."
Talks for the 2020 season include Larry David, the cast of Schitt's Creek, John Mulaney, Jeffrey Toobin, Paul Krugman, Samantha Bee, Queer Eye's Antoni Porowski, Diane Keaton, Issa Rae, Edie Falco, Seth Rogen, the cast of Outlander, Kevin Kline, Pod Save America's Dan Pfeiffer, Roy Wood Jr., Ronny Chieng, Noah Centineo, Ezra Klein, Malcolm Gladwell, Fareed Zakaria, Ramit Sethi, Glennon Doyle, Nicholas Kristof, Sheryl WuDunn and many more.
Every customer. Every flight. Every day.
United continues to strengthen its commitment to its customers, looking at every aspect of its business to ensure that the carrier keeps customers' best interests at the heart of its service. In addition to today's announcement, United recently:
Announced that MileagePlus award miles will never expire
Committed $40 million toward a new investment initiative focused on accelerating the development of sustainable aviation fuels and other decarbonization technologies
Established Miles on a Mission, a first-of-its-kind crowdsourcing platform which gives customers a simple way to donate miles to non-profit organizations and charities in need of air travel
Launched ConnectionSaver, a digital tool dedicated to improving the experience for customers with connecting flights
Instituted PlusPoints, new upgrade benefits for MileagePlus Premier members
Gave Economy customers a choice of complimentary snacks on domestic flights
Made DIRECTV free for every customer on more than 200 aircraft
About United
United's shared purpose is "Connecting People. Uniting the World." We are more focused than ever on our commitment to customers through a series of innovations and improvements designed to help build a great experience: Every customer. Every flight. Every day. Together, United and United Express operate approximately 5,000 flights a day to 362 airports across five continents. In 2019, United and United Express operated more than 1.7 million flights carrying more than 162 million customers. United is proud to have the world's most comprehensive route network, including U.S. mainland hubs in Chicago, Denver, Houston, Los Angeles, New York/Newark, San Francisco and Washington, D.C. United operates 791 mainline aircraft and the airline's United Express partners operate 579 regional aircraft. United is a founding member of Star Alliance, which provides service to 195 countries via 26 member airlines. For more information, visit
united.com, follow @United on Twitter and Instagram or connect on Facebook. The common stock of United's parent, United Airlines Holdings, Inc., is traded on the Nasdaq under the symbol "UAL".
About 92Y
92nd Street Y is a world-class, nonprofit cultural and community center that fosters the mental, physical and spiritual health of people throughout their lives, offering: wide-ranging conversations with the world's best minds; an outstanding range of programming in the performing, visual and literary arts; fitness and sports programs; and activities for children and families. 92Y is reimagining what it means to be a community center in the digital age with initiatives like the award-winning #GivingTuesday, launched by 92Y in 2012 and now recognized across the US and in a growing number of regions worldwide as a day to celebrate and promote giving. These kinds of initiatives are transforming the way people share ideas and translate them into action both locally and around the world. More than 300,000 people visit 92Y annually; millions more participate in 92Y's digital and online initiatives. A proudly Jewish organization since its founding in 1874, 92Y embraces its heritage and welcomes people of all backgrounds and perspectives. For more information, visit
www.92Y.org.
Post your press-release (free) click here.